Work Experience: + 25 years including 12 years in leading positions responsible for highly skilled staff. Both public and private organizations, small or large. Global Profile. Trusted advisor at all levels. Industry Focus: Healthcare and Welfare Tech.
Areas of Expertise
Public-Private co-operations and Strategic Partnerships
Business Strategy and go-to-market – SME's
Customer focus and user-driven innovation
Innovation Leadership and Strategy
Branding and Design
International network & partly based in Bangkok / Southeast Asia
Work History & Customer References
2014 – : RUFF & CO. Business Innovation, Founder and CEO. Business Innovation support and interim services within innovation leadership, management, and business development of
companies and units on global markets. Focus on Healthcare and Wellbeing.
Selected Customer references:
InnovationGROWTH – Innovation Center Denmark & Ministry of Education and Science, Denmark – partly SME's in Healthcare, read more
Zealand Region – Healthcare, read more
Business Finland (former Finpro) – Healthcare, read more
Copenhagen Business School – External Lecturer, M.Sc. in Innovation in Healthcare, read more
Techsauce Global Summit, Southeast Asia, Bangkok, read more
Other references:
Norwegian Research Council, Markedsmodningsfonden.
2012-2014: Capital Region of Denmark, Unit for Research and Innovation
Head of Innovation and Business Development. Responsible for activities related to healthcare innovation and commercialization and tech trans of value-creating prototypes/inventions (Health IT, life science, medical, pharmaceuticals, etc.) Large network of contacts with hospitals, trade associations, businesses and research institutions, innovation centers. Activities included close cooperation with private enterprises in their business development and go-to-market vis-à-vis the healthcare sector.
2009-2002: Capital Region of Denmark, Healthcare Innovation Centre, Director
Establishment and head of Healthcare Innovation Centre for Denmark's largest provider of healthcare comprising 8 hospitals and 40,000 employees. Building up of an innovation culture and strategic innovation projects in the Capital Region of Denmark's hospitals based on public-private collaboration models, design thinking and prototyping. Scaling up of solutions across units.
2006-2009: Danish Design Centre
Head of the strategically important Design and Innovation department, which was tasked with helping Danish companies to strengthen their global  competitiveness with design as an innovation tool. Business support packages. Coaching and mentoring of SME's. Activities involving global markets.
2001-2006: Danish Ministry of Foreign Affairs
Team Leader and developer of programs for the internationalization of SMEs: Export Preparation Program/Export Preparation Plans, BornGlobal and BornCreative. Desk for Multilateral Aid and Bilateral Aid (Latin America).
1998-2001: Royal Danish Embassy in Buenos Aires,Argentina
Deputy of the Embassy and Day-to-day Manager of the trade department. Business Support for SME's and large companies within environment, energy, healthcare, food and other industries.
1992-1994: A/S Wodschow & Co.
Regional Export Manager (France, Spain, Portugal and Latin America) and Marketing Manager. Industrial machinery for Food Industry.
1990-1991: Rockwool A/S
Marketing Trainee (part-time with Master's studies at CBS).
1988-1990: A/S Wodschow & Co.
Marketing Assistant. Industrial machinery for Food Industry.
Education
Executive Education
2017: Advanced Management Program in Health Innovation, Imperial College, IESE, CBS
2016- 2017: Sustainable Business Development for Advisors, Lifestyle & Design Cluster.
2015/September-October: Certificate in "Business Models"/Strategyzer (Alexander Osterwalder)
2015: Executive Visitor's Program, Cleveland Clinic, Cleveland, Ohio (one of USA's leading and
most innovative healthcare organisations).
2012 and 2013: "Customer-Focused Innovation" & "Innovation Leadership Challenge within
Healthcare", Stanford University, Graduate School of Business, Stanford University.
2011-2012: Executive course in Leadership, "Ledelse af Ledere", Capital Region of Denmark.
Degrees
1990-1992: MSc. in Economics and Business Administration, Department of International
Economics and Management (INT), Copenhagen Business School.
1984-1987: Bachelor, Business, Language and Culture programme (SPRØK), Copenhagen
Business School.
Studies abroad: Whittier College, California and Monterey Institute of International Studies,
Monterey, California – ESADE Business School, Barcelona – Université de la Sorbonne, Paris.
Honors
Member of VL 112 Bangkok – Danish Management Society
Member of Advisory Board for Design Werck
Authorized Examiner (censor) in Economics and Business at master's level (2002-18)
Language skills
English (fluent), Spanish (fluent), French – moderate level, German – some
Drop us a line
RUFF & CO. offers professional advice and services within innovation and international business development.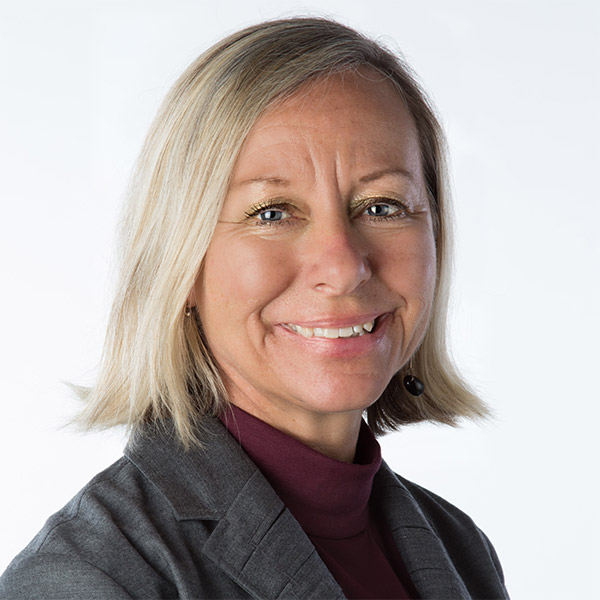 Susie A. Ruff
CEO
RUFF & CO. Business Innovation